WORLD EXPO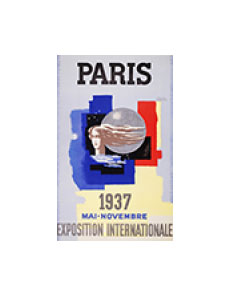 Category
World Exhibition – (General International Exposition 2nd Category)
Dates
25/05/1937 - 25/11/1937
Theme
Arts and techniques in modern life
Official Designation
International Exposition of Arts and Technics in modern life
Area (ha)
105
Visitors
31,040,955
Participants (Countries)
45


Organised under the theme "Arts and Techniques in Modern Life", Expo 1937 Paris was registered by the 6th General Assembly of the BIE on 23 October 1934.
An Expo on the eve of World War II

The Pavilions of Nazi Germany and the Soviet Union faced each other in a highly symbolic way on the Varsovie Square. The Pavilion of Republican Spain, designed during the Civil War, warned about the dangers of fascism. Its most famous exhibit was Pablo Picasso's "Guernica", which was created for the event. "Guernica" is a direct refrence to the German air force attack on the Basque town but it has become a symbol, a universal reminder, of the horrors of war.

Art and technology to promote peace

The aim of the Expo was to demonstrate that art and technology are not opposed but rather that their union is indispensable: the Beautiful and Useful must be inextricably linked and should promote peace. The plan to present the latest scientific discoveries was developed by Nobel laureate and under-secretary Jean Perrin. The objective was to use exciting attractions and comprehensible learning aids to bring the latest scientific developments, from meteorology to nuclear physics, to a broader public. The Cinema Pavilion, the Printing Pavilion, the Palace of Radio, the Palace of Light, the Palace of Refrigeration and the Pavilion of Flight were organised for this purpose. The exhibition was not only designed by scientists and architects but also involved painters such as Fernand Léger who had published an article in 1935 on the convergence of art and science - his contribution was the decorative wall painting "The Transfer of Forces" presented at the Discovery Palace.

The legacies of the Expo

Today, many buildings of the 1937 Exhibition are still standing in Paris. The Palais de Chaillot is perhaps the best known monument. It replaced the old Palais du Trocadéro built for the 1867 World's Fair. It is in the Palais de Chaillot that the United Nations' General Assembly adopted the Universal Declaration of Human Rights on December 10, 1948. The building now houses several museums and a theater.